Gateways
RADACAT LORA Gateway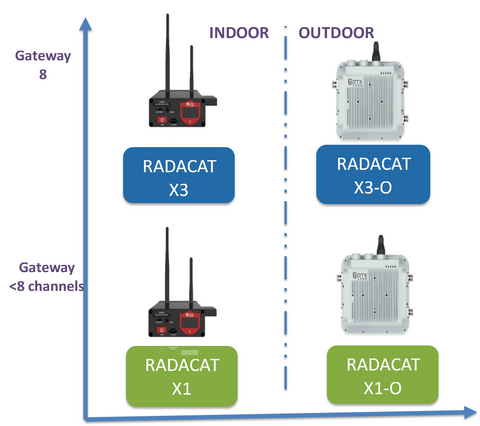 Product Brief Introduction
        RADACAT LORA gateway was independently developed by         RADACAT from 2016,so Radacat has the full IP of the Gateway.
        The Gateway supports LORAWAN standard formulated by the international Lora alliance, as well as the mainstream IOT access protocols such as WiFi, BLU, NFC etc,rich 2G / 3G / 4G, EMTC / nb-iot, WiFi, Ethernet uplink interface options. The rich protocol interfaces make LORA Gateway very flexible and adaptive to different situation. It is called "Super Gateway".
        The product supports USB device expansion and easily meet the requirements of IOT fragmented application
        The Gateway embeds Lora low-frequency chip can meet the coverage of 1km-15km according to the actual deployment scenarios
        The Gateway can cooperate with the cloud key management system to support high-level security protection.
        The Gateway is designed with 2 major types, indoor and outdoor ones. Radacat categorizes the Gateway with capacity as well for 2 channels and 8 channels. The different models can fit different requirements and network performance.
        The Gateway is flexibly configured via APP that is developed very user-friendly.  
        The Gateway is designed for almost all IOT scenarios as the data collectors, data transmission relay station, interface to Internet, also has strong edge computing and AI functions installed. 
Product Key Features
Rich interfaces of LORA, WiFi, BLU, NFC etc,rich 2G / 3G / 4G, EMTC / nb-iot, WiFi, Ethernet uplink interfaces.
Has 2 channel and 8 channels for LORA connection.
Supports both indoor and outdoor.
Controlled by APP, which makes configuration work easy.
Self-generating Mesh network support