Smart Phone
RADACAT LORA Smart Phone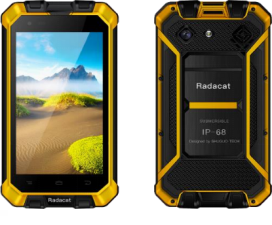 Product Brief Introduction

        "RADACAT LORA Smart Phone" is an "Internet of Things" (IOT) mobile phone developed by Radacat Technology Canada. The LORA Smart Phone aims at users in the IoT application industry. 
        From hardware design perspective, it is anti-drop, waterproof, dustproof, explosion-proof, anti-corrosion, temperature resistance, pressure resistance, anti-leakage, and support outdoor and other special environments.
        It supports "six-mode, 17-band", and equips with dual card dual standby.
        It has a built-in LORA high-power wireless module, which helps the phone realizes not only cellular-based operation  but also supports LORA-based OFF-GRID communication for text and voice interconnection between.
        It can also function as a portable LORA gateway, connecting LORA-based end nodes to collect the data from them.
        It is nicely designed for outdoor engineering, IOT data collection, utility engineering, OFF-GRID communication and etc.
Product Key Features
High-level Security
Hardware design of the product has most comprehensive 8 protections in the industry, anti-drop, anti-water, anti-dust, anti-explosion, anti-corrosion, high and low temperature resistance, high pressure resistance, and anti-leakage. The waterproof and dustproof rating reaches IP68, providing strong support for complex and changing scenarios in the industry.
Multi-network system
Supports six-mode 17-band that covers 2G/3G/4G and 5G in Cellular world.
Supports WLAN, Bluetooth, NFC and other multiple access methods. It is convenient for users to realize multiple network access.
Supports GPS and AGPS
Embedded with rich sensors of gravity, distance, light, gyroscope, geomagnetism, hall, barometer, which allows users to fulfill the needs in the Internet of Things industry. Also reserves enough space for more sensors in terms of application needs
LORA support. The first smart phone with a built-in LORA module, the transmission power of the LORA module reaches 2W that covers distance above 10km for text and voice at OFF-GRID environment.
Plays the function of the portable LORA gateway;
Detail Configuration
Size: 146mm*76mm*16mm
CHIP: MT6735,4 cores,3GHz
LORA: Sensitivity -137dBm
  Power:2W
OS: Android 5.1 above
Screen: 4.5" QHD,960*540
WLAN: IEEE 802.11b/g/n
Battery: 4650mAh